How to install ERPNext using Docker
Frappe is the foundation software needed* to run and install ERPNext.
Bench is a python tool to orchestrate Frappe deployments. Frappe is a "batteries included" web framework released under the MIT licence. ERPNext, is an ERP tool suitable for small to medium sized businesses and it a collections of apps on-top of Frappe. ERPNext is licensed GPL.
1. Install Frappe Docker
git clone https://github.com/frappe/frappe_docker.git
cd frappe_docker
docker-compose up -d
docker exec -i -u root frappe bash -c "cd /home/frappe && chown -R frappe:frappe ./*" 
cd ~/
bench init frappe-bench --skip-bench-mkdir --skip-redis-config-generation
cd frappe-bench
mv Procfile_docker Procfile
mv sites/common_site_config_docker.json sites/common_site_config.json
bench set-mariadb-host mariadb

You now have frappe installed, however there's no sites or apps installed yet. You must:
Create a new site(s)
Add the ERPNext app
Choose to install those apps on the sites you wish
The above steps are explained next.
Without any apps, Frappe is a basic shell upon which you can build out your application. Frappe is a "Batteries Included" framework.
Frappe is a Full-stack web application framework that uses Python and MariaDB on the server side and a tightly integrated client side library

Frappe
Frappe includes:
Therefore Frappe comes with a lot of functionality before you install ERPNext.
Note: The default login to Frappe docker is:
Administrator/admin
Frappe Base install process (no ErpNext app yet):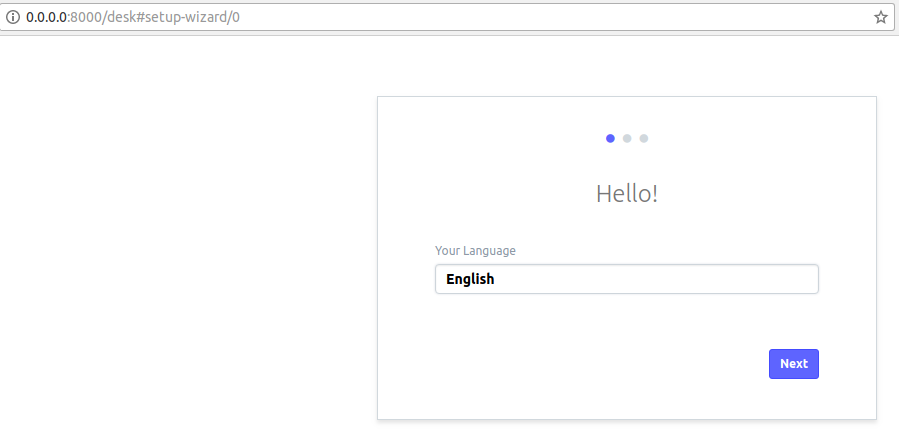 The Desk view shows the some of the modules already included in Frappe:
Email

Inbox (Send/Receive)
Newsletters & Subscriber Lists

Todo list manager
Kanban boards
Also included by default:
Web site creation

Page creation
Web forms
Blog

Knowledge base
Calendar
Notes & Reminders (pop up reminder when user logs in)
Gantt chart (built up on calendar)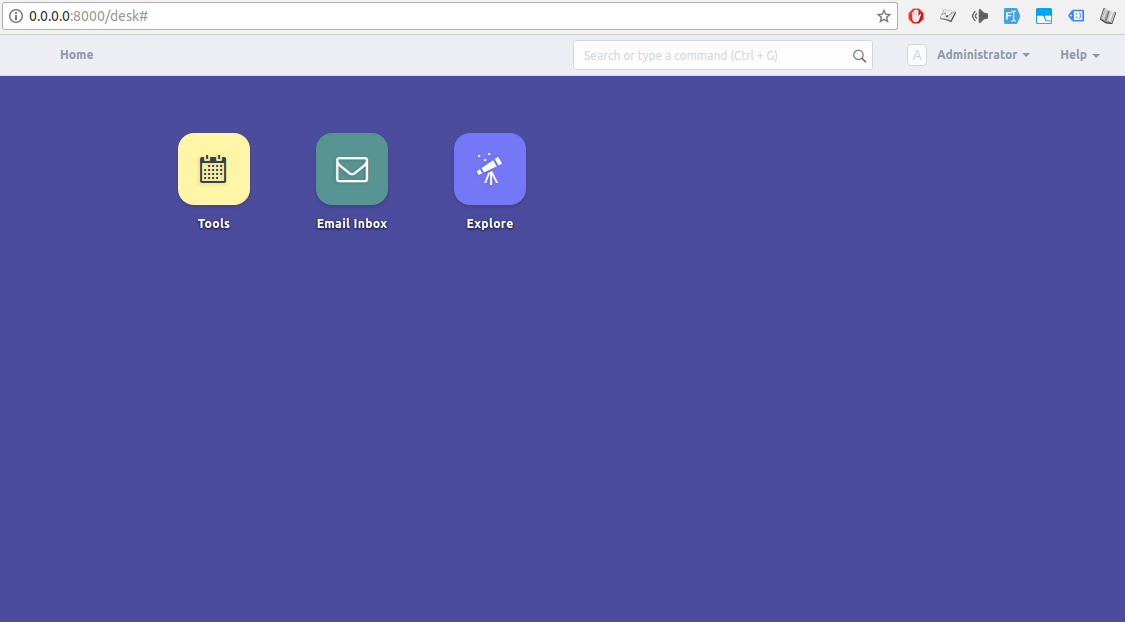 2. Add a site
To add a new site:
bench new-site site1.local

3. Add ERPNext app to Frappe
First you must download (fetch/get) the ERPNext app. You only need to do this once:
bench get-app erpnext https://github.com/frappe/erpnext

Now install the ERPNext app:
bench --site site1.local install-app erpnext
Note: If you get the error "ERPNext can only be installed on a fresh site where the setup wizard is not completed". This is because you have already completed the set-up wizard. ERPNext needs to be installed as part of the set-up process. To wipe your site's database and start again run:
bench --site site1.local reinstall
# Then try again:
bench --site site1.local install-app erpnext

4. Switch to master branch
bench switch-to-master
## Run bench update to be safe from any differences in database schema 
bench update --patch

5. Perform the ERPNext setup
Run bench start, and then complete the installation wizard: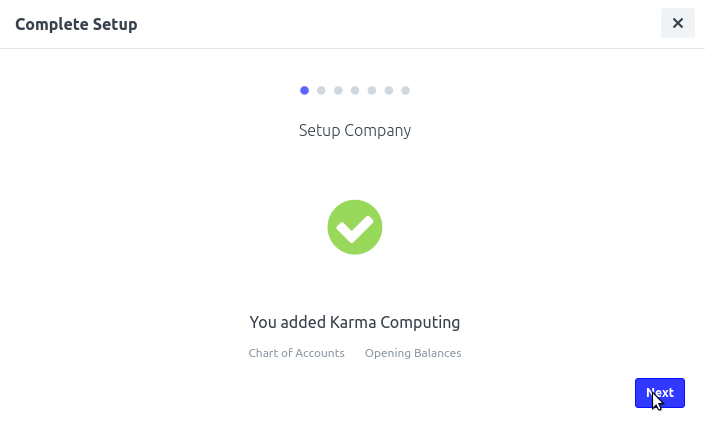 After completing initial installation: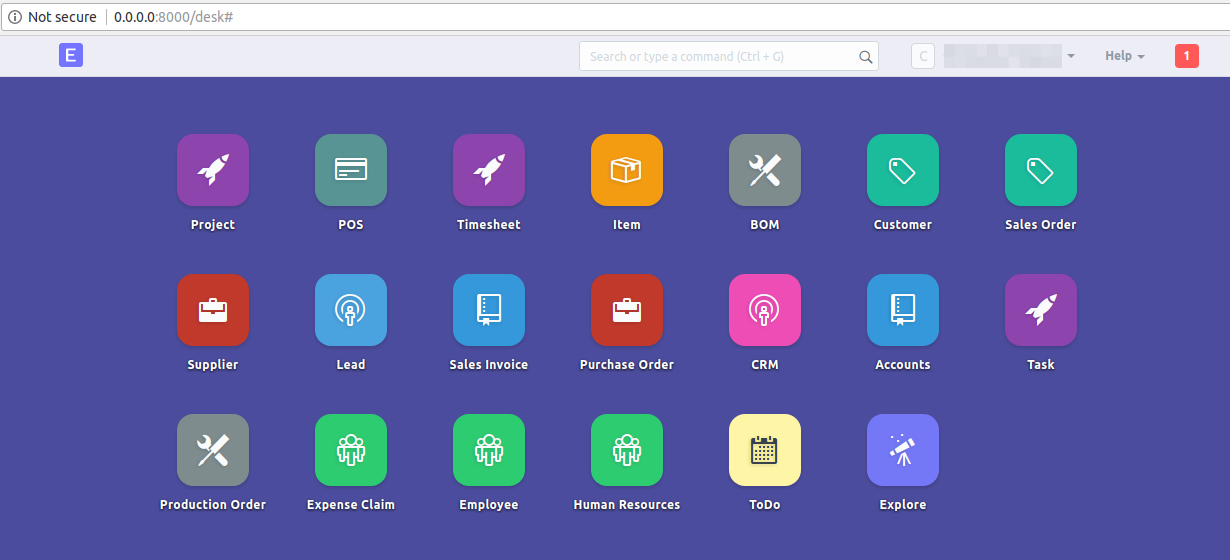 You'll note a lot more apps are installed along with ERPNext. Be aware most of the work remains to be done!
Configuration to your business needs
Training. Support your staff and users to know how to use any system
Helpful bench/ Frappe commands:
Show bench help commands
bench --help
Reset Frappe admin password
bench --site sitename set-admin-password newpassword
Show help on a particular command options
E.g. to show the command options to the bench serve command:
bench serve --help
Useful links
Ignore readme https://github.com/frappe/frappe_docker/
Instead: https://github.com/frappe/frappe_docker/wiki/Hitchhiker's-guide-to-building-this-frappe_docker-image
Do this: https://github.com/frappe/frappe_docker/issues/1#issuecomment-325377935
From here (and other file) https://github.com/frappe/frappe_docker/blob/master/frappe-bench/sites/common_site_config_docker.json
Finally: https://discuss.erpnext.com/t/solved-setup-failed-could-not-start-up-error-in-setup/33037/3